Tiger Merchandising Showcases at The Sports Merchandise and Licensing Show 2023
Tiger Merchandising is excited to announce its participation in the ninth edition of The Sports Merchandise and Licensing Show (SMLS) scheduled to take place at Stamford Bridge London on Tuesday, October 17th, 2023. We invite you to visit our booth at Stand 45 to explore our exciting range of sports merchandise and licensing opportunities.
About The Sports Merchandise and Licensing Show (SMLS)
The SMLS is a premier event designed to connect sports brands with potential licensees and suppliers from around the world. With its diverse array of products and services, the show offers a unique platform for discovering new business prospects and reconnecting with industry contacts, all within the convenience of a single venue. SMLS is expertly tailored to meet the specific requirements of sports brands, making it the ideal event for those in the industry.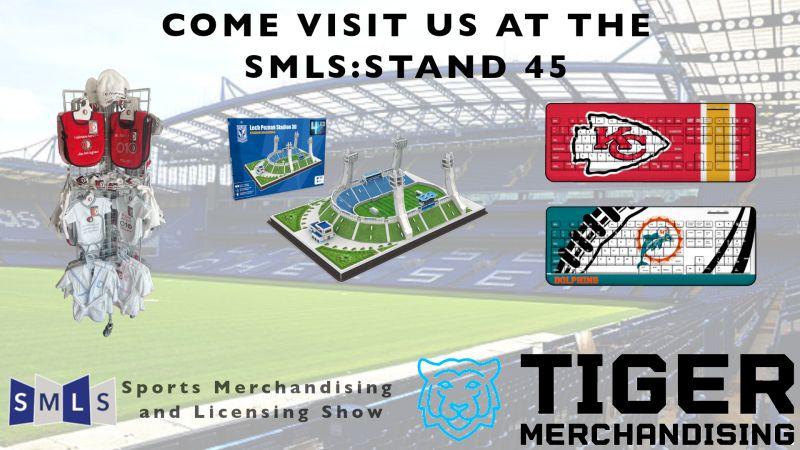 Tiger Merchandising is dedicated to providing high-quality, customizable merchandise for sports clubs. Our booth at Stand 9 is your gateway to a wide selection of merchandise that is sure to captivate fans and elevate your brand. Whether you're seeking custom jerseys, team apparel, or fan-centric accessories, we have a range of products that can be tailored to your club's unique identity.
Our team is eager to discuss how our products can help boost your club's revenue, increase fan loyalty, and enhance your brand visibility. Don't miss this opportunity to discover how we can be a valuable partner in meeting your sports merchandise needs.
Come and meet the Tiger Merchandising team at Stand 45 during The Sports Merchandise and Licensing Show 2023. We look forward to connecting with you, sharing our expertise, and exploring the possibilities of working together.
For more information or to schedule an appointment in advance, please contact us.
We can't wait to see you there!